Simplex/Duplex Sheet Cutter Knives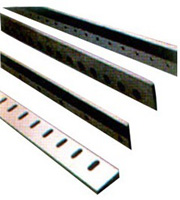 We are engaged in manufacturing quality Simplex / Duplex Sheet Cutter Knives that is manufactured from quality material. Available in various specifications, these are in high demand by our clients spread across the nation.
Following are some of its unique features :

Up to 4400 mm length in all sizes and sections.


Perfectly sharp, honed and straight cutting edges.


Alloy steel tipped, fully alloy steel & HSS inlaid varieties


Compatible with high speed sheet cutting.


Machines up to 300 strokes per minute. Import substitution


Longer life between regrinding.

Our Products
Our Services
Quick Contact